At Strive Labs, we're all about creating and retaining loyal customers. That's how we help you grow your business. We know that all of the hard work you put into branding and marketing your practice is useless if you are unable to attract your target audience, assist them in the successful completion of their plan of care, and then send them out to become your raving fans.
What we find quite often in our conversations with practice owners is that they have a heavy focus on new patient acquisition, but no real strategy aimed toward the successful retention of patients. We know that this situation leads to lost opportunities to grow a loyal customer base, and therefore lost revenue. We understand, because we're PTs too! We're here to help!
Scott Hebert, Co-Founder and CEO of Strive Labs has said this in the past: "Improving patient retention can offer an incredible value to your clinic. Having a process and a quality set of tools to help facilitate it is crucial. Every clinic will find what works best for them but it comes back to this: educating, engaging, and empowering your patients is all about improving the relationships you have with them. By providing this extra level of service, you can ensure that every patient you treat gets the most out of every interaction with your clinic."
The Enemy of Patient Retention — Churn.
But to understand patient retention, we first need to know what the opposite of patient retention looks like. In PT, we call it patient churn. Churn rate is the percentage of patients that drop out of physical therapy before their course of care is complete. Unfortunately, the data in PT is not pretty.
As you see below, on average 20% of patients drop out of care in the first 3 visits. Another 20% will drop out before their seventh visit. That's 40% of the patient population that is dropping out prior to completing their course of care. While we always advocate for getting a patient better as quickly as possible, the unfortunate truth is that it is very unlikely that 40% of patients are actually reaching full functional recovery within the first 6 visits.


What does such a high churn rate tell us, other than that much of the time, patients are leaving care early?
Patients are not engaging with their care.
PTs are not effectively demonstrating the value of completing a course of care.
Clinics are losing a staggering amount of money to patient churn.
It thereby stands to reason that if you can improve the patient management process at your clinic, you will end up with more satisfied, loyal patients and increased revenue for your practice. That is the true power of patient retention.
What Leads to Patient Retention?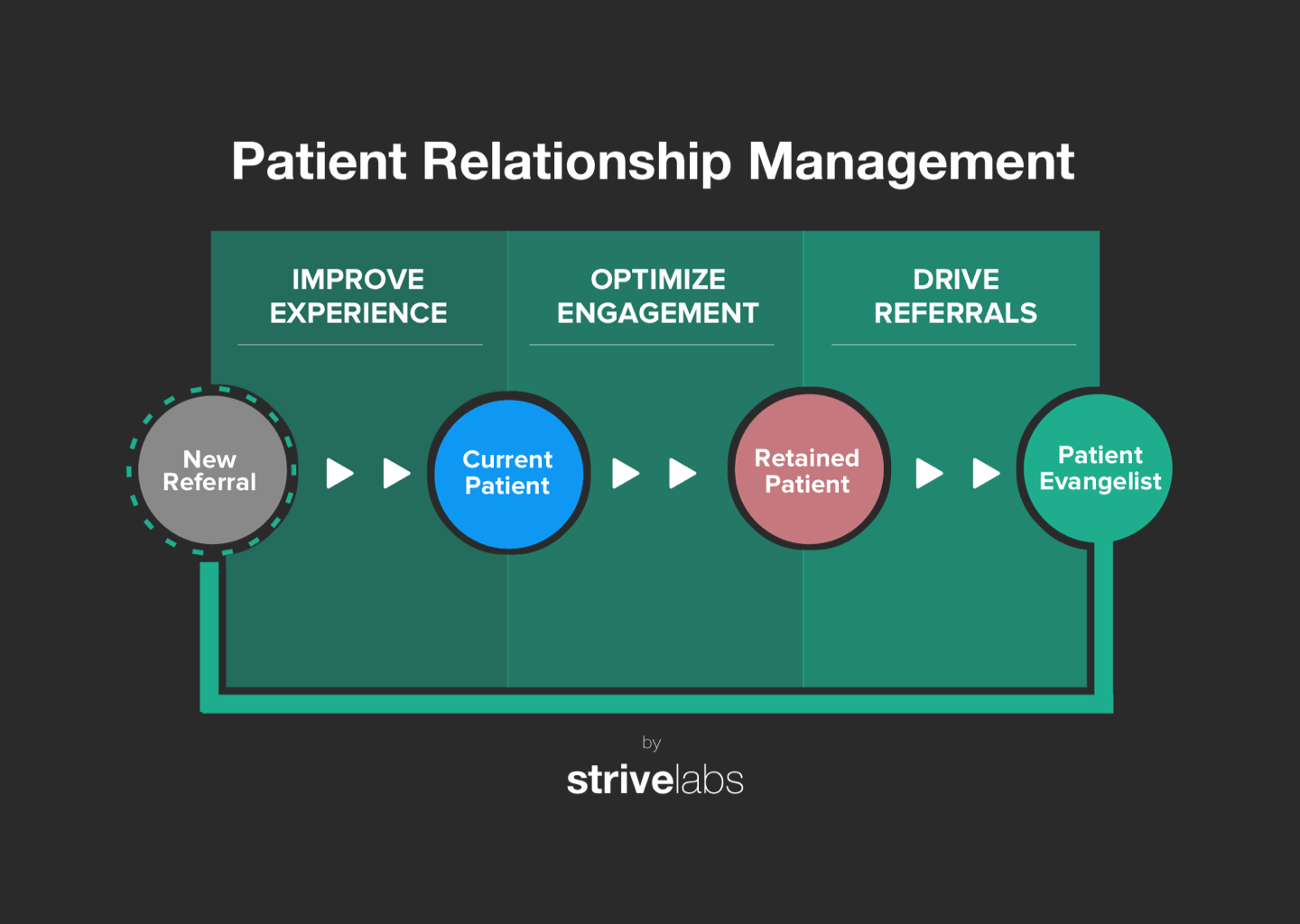 The diagram above breaks the patient relationship management process into three main phases: Experience, Engagement, and Evangelism. The circles represent the patient's path along the way, ultimately ending with a retained patient AND a walking billboard for your practice. But because you can't improve what you can't measure, you need a way to quantify retention.
To measure patient retention, begin with understanding the Patient Retention Rate (PRR) calculation. PRR is very simple: it's the difference between the amount of visits a patient attends and the amount of visits your therapist determines is necessary in their plan of care. For example:
A patient at your clinic attends 7 visits before self discharging and did not reach goal completion.
Their therapist felt that the patient would require 10 visits to reach their full functional goals.
If you only treated this one patient, you would calculate retention rate by dividing 7 by 10 and multiplying by 100 to get a percentage.
This is a metric that should be calculated on a patient by patient basis and taken in aggregate as we've mentioned before. Simply using visits per case can be misleading, and often hides patient churn due to high variance in actual visits per case. We've even created a handy spreadsheet to help keep track of it.
The beauty of PRR is that an owner can use it to determine the amount of revenue lost due directly to patient dropout. Meaning, if your clinic's PRR is 70%, you are running 30% below maximum revenue.
How much of a difference would that 30% mean to your business?
Small Changes, Big Improvements
Even small changes in patient retention can have major financial implications on a clinic's bottom line. This is because for every additional visit over the 3 visit dropout threshold, your patient becomes more and more likely to fully complete their course of care.
In a recent customer case study, improving patient retention rate from 85% to 88% across a 14 site PT clinic on the East coast lead to over $150,000 in new revenue. This was accomplished through diligent monitoring of patient experience, and rapid intervention when patients at risk of dropping out were identified. Tools such as the NPS® can prove incredibly valuable in managing this process. As can other engagement insight tools, such as an HEP that tracks patient activity, and efficient patient management software that tracks messaging effectiveness.
Retention by the Numbers
Here's what the data says about the value of retained customers (highlights from an excellent infographic found here):
It can be up to 5 times more cost-effective to retain an existing customer than to acquire a new one; yet, only 16% of companies put their primary marketing focus on customer retention.

Customer retention boosts engagement and revenue, and therefore decreases churn.

The probability of selling to an existing customer is 60-70%, while the probability of selling to a new prospect is 5-20%.

Existing customers are 50% more likely to try new products and spend 31% more, when compared to new customers.

Email marketing is the most effective marketing tactic for customer retention (yet most practice owners don't have an automated platform for providing the right information to the right patient at the right time).

Increasing customer retention rates by 5% increases profits by 25% to 95%.
Tools that can help:
At Strive Labs, we want to help practice owners improve retention rate by decreasing patient churn and increasing their percentage of loyal customers. Critical to the process are effective engagement solutions that monitor the patient experience and allow you to intervene before a patient drops out of care. If you would like more information on how our patient management software, StriveHub can assist you in developing a strong patient retention program, check out our website, and please reach out to us at hello@strivelabs.com to learn more.
Still curious about patient retention? Use our free Patient Retention Rate Calculator to see where your clinic stands, and take steps to turn it into a patient retention powerhouse!