All this week, we've been introducing the StriveHub Platform. So far we've outlined why we built StriveHub, given you an overview of the Patient Relationship Management Process, and profiled two of the three major components of the StriveHub platform- StriveHub Reach and StriveHub Portal. Today we're looking back to where it all started for Strive Labs, our home exercise prescription tool, TheraVid.
A Better Patient Experience
Since 2012, our team has been looking at ways to improve the patient experience as it relates to home exercise. For too long we've known that the tools and resources made available to our patients were not enough. Less than 30% of patients report being fully compliant with their home exercise program. Even worse, in the United States only 20% of adults report meeting the suggested amount of physical activity guidelines each day. As movement experts, professionals in health and wellness lack the tools to keep Americans active.
When we built StriveHub Portal, we did so with the patient in mind, but we knew that for it to be successful, providers had to be armed with tools that not only delighted their patients, but also fit their clinical workflow.   That's why we built TheraVid.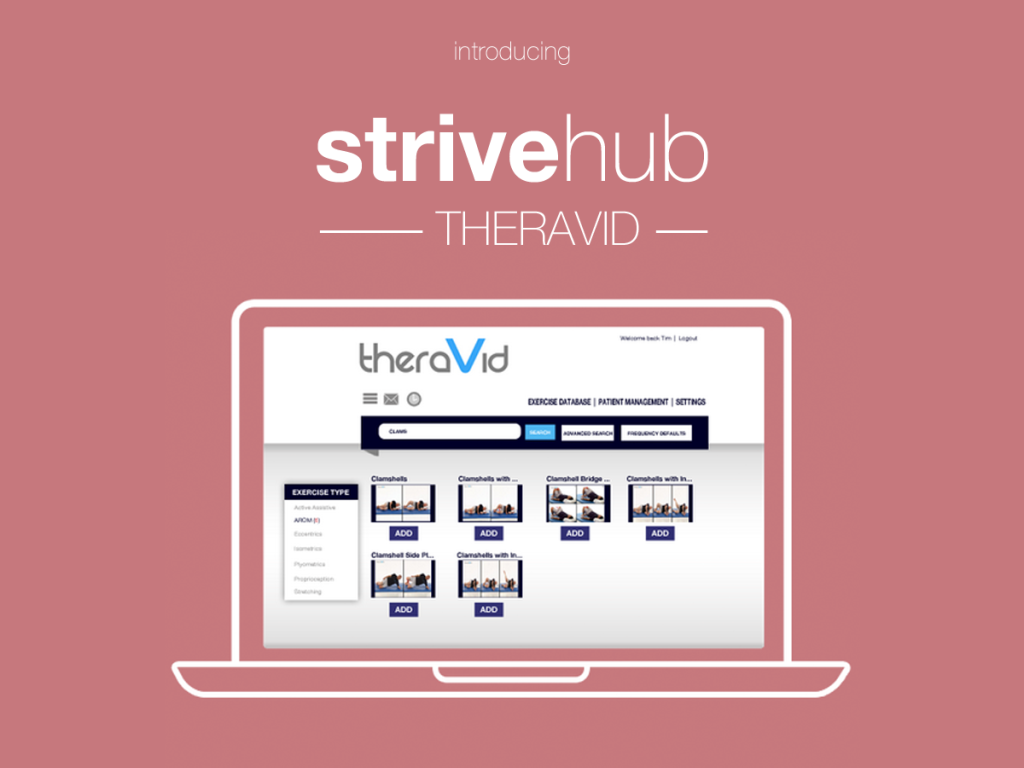 Introducing TheraVid
TheraVid is a smarter exercise prescription tool built for health and wellness. At its core, TheraVid provides a mechanism to distribute video based exercise instructions to patients and clients through its integration with StriveHub Portal. TheraVid comes with a library of over 800 exercises, meticulously categorized and indexed to make finding the perfect exercise a breeze. It's so easy in fact, most users are able to create their custom exercise program in two minutes or less.
Smarter Search
Stop flipping through endless pages of exercises. With Smart Search, TheraVid makes finding the perfect exercise simple. To start, search for an exercise by name, position, or body part using the search bar.  The results are ordered by exercise type, so by clicking the filters on the left hand side of the screen you'll automatically be taken to the appropriate page. Once you find the exercise you're looking for, just click "Add" to add it to the program.  Click on the image of the exercise and you'll be able to preview the video, add frequency information, and even see exercises frequently prescribed with the one you have selected.
Search by Diagnosis
TheraVid also makes it easy to search the exercise database contextually. Simply click advanced search, then search by diagnosis and you'll be able to scan the database by common diagnoses, filtered by ICD-9 code. These listings are populated automatically, based on users at your past selections, your clinic's selections, as well as all TheraVid Users.
Templates and Progressions
Our template engine makes turning any exercise into a template a snap. Just create your exercise routine, click "Save as Template" and you're done. Templates save across your entire clinic, making it easy to standardize best practice among all your therapists.
With Progressions, the power of TheraVid really starts to shine. Progressions are multi-phase exercise routines. They can be saved just like templates, and they allow you to progress patients through their course of care with ease. To create a progression just add as many phases as you would like, then assign exercises to each phase. Set how long you would like the phase to last and click submit. When it's time to progress to the next phase you'll receive an email letting you know it's time to progress your patient.  Simply click yes to progress them, or delay the progression further if the patient isn't ready. Progressions are great for conditions with common post-operative protocols like ACL repairs or rotator cuff repairs.  They also make an excellent reminder tool for always keeping a patient's routine fresh.
Improved Patient Management
Because TheraVid is fully HIPAA compliant, we make it easy for providers to manage their patients over time. Due to its tight integration with StriveHub Portal, providers can message their patients directly through TheraVid. Additionally, TheraVid provides insights into patient engagement, including notifications for when a patient views their exercise video, when they track their workout, and if they track their pain. This deep insight into engagement activities helps enable Proactive Engagement Monitoring™, avoiding costly patient churn.
Available in Paper When You Need It
While we designed TheraVid to work tightly with the web-based StriveHub Portal, there will always be times when you need a paper backup. Every routine can be printed with image fallback. TheraVid also allows for text translation, currently into Spanish, French, Creole , Italian, and Portuguese.
Want to Learn More?
TheraVid is incredibly flexible, and great for clinics of all shapes and sizes. For our Professional and Enterprise plans, we'll create beautiful HD content for you if you think we're missing an exercise. Have content of your own? We'll help you get that into the system in no time. If you think TheraVid would make a nice addition to your practice, click the link below to learn more.