This week, we're talking about the StriveHub platform.  Every day, we will be covering a different piece of the platform as well as some concepts that go along with it.  Yesterday we detailed StriveHub Reach, a marketing automation tool that makes customer/patient outreach simple and, well, automatic. And tomorrow (SPOILER ALERT) you're going to be hearing more about TheraVid, our home exercise prescription tool that helps keep patients engaged and on the right track with their recovery. Today we're going to be talking about the bridge that connects patients with their providers between the clinic and the home: StriveHub Portal.
A Brief History of Portals
There has been a lot of chatter about patient portals in the healthcare industry over the last several years, starting with the the introduction of Meaningful Use–a multi-stage electronic health records technology program– within the American Recovery and Reinvestment Act (ARRA) of 2009. The goal of this program was to incentivize health care providers to better inform patients and to help them engage with their personal health using tools like patient portals. The driving force behind this was the belief that if you want patients to care about their health, they need to be able to easily access their personal health history and no longer be beholden to health care providers as gatekeepers of their information. While this idea is great in principle, it has been less-than-stellar in practice.
The Truth About Portals
This sounds all well and good, but there is one HUGE problem with this influx of portals post-Meaningful Use— and that problem is that they didn't engage patients.  Many portals were feature-driven; meaning they were built to quickly check off the boxes of incentive requirements, not to actually elicit engagement.  The results were predictable: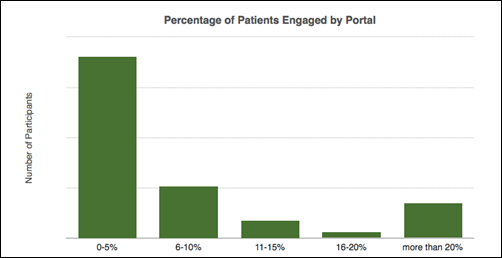 As you can see, the vast majority of portals elicit between 0-5% patient engagement.** The problem here is that traditional portals are not designed with the patient in mind. **While there are a few nice portals in use, in the push to meet deadlines there are many others that lack user-friendly design, intuitive user-interface, and fail to offer the features & benefits that truly connect patients with their providers. Which brings us to…

The StriveHub Portal isn't jam-packed with unnecessary features.  Instead, we strove to be as concise as possible- only including  features that patients found relevant and engaging.  Portal was built to accomplish two goals:
Instill patients with confidence that they're doing what they need to do through crystal-clear home care plans and progress tracking, and
Break down the traditional barriers to communication when a customer is outside of the clinic.
The results:** our customers consistently see over 50% of their patients engaging with Portal**.  Yes, you read that correctly.
Engage new clients, delight existing ones.
At StriveHub, encouraging patients to engage in the care process is a priority. Because, as we always say, engaged patients are retained patients. It's as simple as that.
So how does Portal go about engaging your clients? By providing the tools and resources that are most important to their recovery.  Here's what they see when they log in: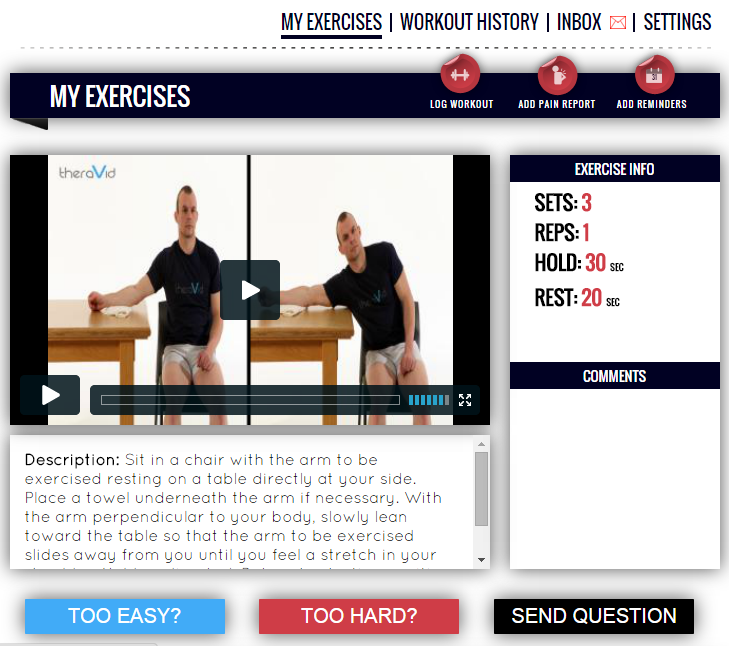 As you can see above, Portal centers around the patient's care plan. Portal gives clients a place to their track workouts along with an easy, intuitive way to monitor progress toward their recovery goals. Clients can also start to provide their feedback if an exercise is too easy, too hard, or if they have a question.  In real time, providers can utilize TheraVid to immediately respond to patient feedback and update home care plans.
This direct and fully HIPAA compliant means of communication provides valuable insight into customer engagement outside of the practice, bringing your attention to individuals who need extra help staying on track. This is what we at Strive Labs like to call Proactive Engagement Monitoring™. Proactive engagement monitoring means actively analyzing who is engaged with care and who isn't, before they stop coming back. For example, watch in real time as patients view their exercise videos, track their workouts, and record their pain.  Because engagement + retention = business growth, StriveHub Portal is key when trying to keep patients involved with care.
How StriveHub Portal Works
For patients, StriveHub Portal is incredibly simple to use. When a new exercise routine is created on TheraVid, a custom Portal page is automatically generated for the patient, and an email notification is sent out with directions for how to log in. When patient's log in for the first time they will be asked to validate their date of birth, and then given the opportunity to create an account. Once this is completed patients will be directed to the main page of the Portal.
View Exercises
Because Portal is centered around the patient's exercise program, they are greeted with a large, easy to use video player, with frequency information, custom comments, and a description of how to perform the exercise. The rest of their routine is displayed below, and each video can be displayed with a single click.
Sending Feedback
As patients go through their routine, they are able to quickly send feedback if an exercise is too easy or too hard. These messages are sent securely back to TheraVid, where a patient's provider can review and respond if needed.
Tracking Pain
If pain is an issue for the patient, StriveHub enables simple pain tracking. In the top right there is an option for adding a custom pain report. A simple Likert pain scale is displayed and patients can simply click a number, and add a location. This pain information is then sent back to the therapist, and graphed in real time, allowing both the patient and the provider to review changes in pain along the care process.
Tracking Progress
When a patient is done with their workout for the day, Portal makes it easy to track their activity. By clicking track workout, patients can list the exercises they did or didn't do, and send that information back to their therapist. This information is also graphed, so both patients and providers can review their information throughout care.
Want to Learn More?
If you want to learn more about how the StriveHub Portal connects your office to the client's home, click the button below to head on over to the official Portal page. From there you can learn more about the entire StriveHub Platform, see pricing information, and get started today!