Earlier this week we announced the launch of StriveHub, a Patient Relationship Management Platform built specifically for health & wellness companies.  All this week we'll be outlining key features of the platform.  The first component we will be featuring is StriveHub Reach.  Make sure to check back for overviews on StriveHub Portal and TheraVid HEP later on this week.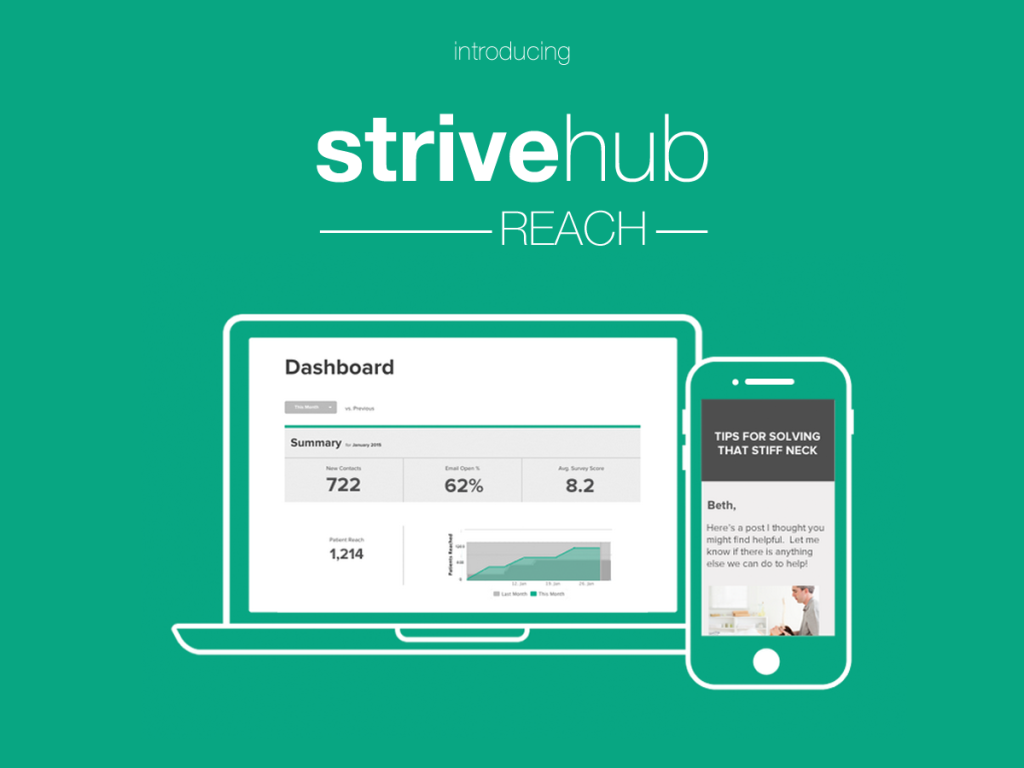 How do new patients find out about your clinic?
Word-of-mouth referrals are the lifeblood of the modern PT practice. Ask any practice owner and they will tell you, a satisfied patient makes the best sales person. This isn't anything new. For ages businesses have been leveraging their most satisfied customers to bring in new sales. It's no different in healthcare. In physical therapy, as clinics seek to bring in more and more direct access patients and decrease their reliance on MD referrals, increasing word-of-mouth referrals represents a tremendous opportunity for growth. The question is, however, does your practice have a system in place to turn your most satisfied customers into your most valuable referral source?
Yesterday we outlined the Patient Relationship Management Process (PRM). StriveHub Reach can be used in all three phases to help guide your patients from new referral to current patient to retained patient to patient evangelist. If you haven't read the article on PRM, I suggest you check it out, then click back here for a deeper dive into how clinics across the country are using StriveHub Reach to better manage their patient relationships. Now without further ado, the Strive Labs team is excited to introduce: StriveHub Reach.
So What *is *Reach?
Reach is a new type of marketing software built to help practices in health and wellness grow their business.  Reach relies on simple segmentation and automation tools to ensure the right patient receives the right message at the right time. Clinics are using Reach, both during care and after discharge, to deliver valuable content like welcome messages, surveys, targeted blog content, promotions, and more– automatically. Reach syncs with whatever EMR software you are using to pull in patient demographic information and more.
Getting Patients Into the System
Syncing your patient's information with StriveHub couldn't be easier.  Just export your patient record for your EMR, Billing, or Practice Management system, and upload it into StriveHub. We'll take care of scrubbing all the information to keep things neat and tidy. We also do some handy things that make segmentation easier, like automatic conversion of ICD-9 code to body part for easier diagnosis groupings.
Always Start With a Plan
Now that your patients are in the system, set a plan for how you would like to use StriveHub. When creating a new campaign with Reach, it's important to consider a few key factors. First ask yourself, what phase of the Patient Relationship Management process am I looking to target? Perhaps you're looking to provide an incredible experience by sending a targeted blog post to your new patients a couple days into care.  Maybe your clinic specializes in the treatment of cervical derangements. Perhaps you treat a lot of business executives who can't seem to get off their cell phones and they are always hunched over texting.  You found a great article discussing the impact of texting on your neck and you want to share it with all of your patients with cervical spine issues over 40. Now let's say you want to automate it so that all patients who fit these criteria receive this information 5 days after they start care. Let's walk through how you would make this process a reality with StriveHub Reach.
Creating a List
Creating a list with StriveHub couldn't be easier. Just select the requirements for the list from the dropdown, and press create list. We'll scan through your entire patient record pulling all the patients who meet these criteria.  For the example outlined above we'd want to sort by body part and by age. The video below shows how you would create a list, segmenting by the body part field, and the age field. Every time you add new patients into StriveHub they will automatically be pulled into any list they fit the criteria for.
Creating a Blog Post
Now that your list is created, let's pull in some great new content that your patients will love.  Let's say you found a great article in the Washington Post that talked about the impact of texting on neck pain. Great content like this is all across the web, and there is no reason not to share this with your patients.  While you could write the blog post yourself, it's often easier to aggregate this content from around the web, and then distribute it.  StriveHub Reach makes this process incredibly simple.  Find a post from anywhere on the web, copy the link, and past it into the editor.  Customize the email you want sent to your patient and in no time you'll have a beautiful, branded blog post, ready to send .  Watch the video below to see how simple creating a new blog post can be with StriveHub Reach.
Automate Your Workflow
Now that you have your list is created and your content all picked out, the last step in the process is to set when patients who meet these criteria should receive this piece of content. That's where creating a workflow comes in. Workflows come in two forms, one time workflows– when you want to send a one-off email, survey, or alert to all your patients or a certain group of patients; or continuous workflows, which will send the content to the selected group of patients when a precise set of requirements is met. For the example we have been discussing, you want to send the texting article to patients who have had neck pain and are over 40 years old, and you want to send it 5 days after they start care. To do this, simply create a continuous workflow that includes the list and content you created, and set the send trigger to 5 days after the initial evaluation date. It's as simple as that. All the info is pulled in from your EMR export, you just set the rules. The video below walks you through how you would do this with StriveHub Reach.
Now any time a new patient comes into your clinic that is over 40 and has a cervical spine injury, they will receive this piece of content 5 days into their course of care. Just drop in your new patients and StriveHub takes care of the rest. You can imagine the power that this system provides. Set up welcome messages to all new patients with just a few clicks. Personalize the welcome message so it links to their therapist's online bio. Send out happy birthday messages, check in with at-risk patients a month or so after discharge. Target your most satisfied patients and ask them to share their experience on a review site, or refer their friends & family. Every day our customers are coming up with new ways to use StriveHub Reach to accomplish their clinic's goals.
Understanding Engagement and Satisfaction
Reach does much more than just making the sending of content simpler, it also makes understanding how your customers engage with a given piece of content a breeze, too. For every message you send, we'll give you a detailed breakdown of opens, clicks, shares, and unsubscribes. For an even deeper understanding however, Reach comes with a simple patient satisfaction scoring right out of the box. We use a validated, single question loyalty survey to identify which patients are promoters of your brand, and which patients are unsatisfied. This makes it easy to pinpoint a given customer, and understand how they perceived their experience. The ability to proactively monitor engagement is key to optimizing patient retention, and a critical step in the Patient Relationship Management Process.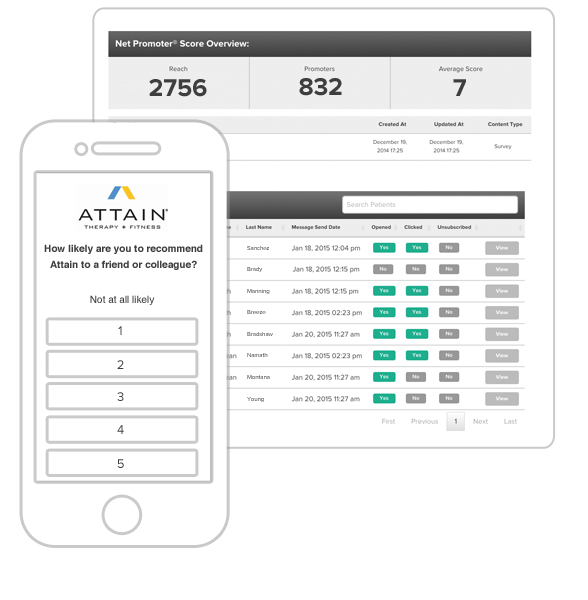 So how does it stack up?
At the publishing of this blog post, StriveHub Reach has been in a private beta for the last 4 months and we've delivered  over 100,000 messages since that time. When clinics target their messages by age or diagnosis, we are consistently seeing open rates above 60% and click through rates above 30%, substantially above the industry average for health and fitness (industry averages for open rate, click rate, and soft bounces provided below thanks to Mail Chimp).

Our team is continuously baking new features into the entire StriveHub Platform. If you think you know a creative way to use Reach, we'd love to get you started today. If you want to learn more about Reach, click the link below to head on over to the official Reach page. From there you can learn more about the entire StriveHub Platform, see pricing information, and get started today.